Sexual massage oils have the power to ignite or rekindle the passion in a romantic relationship. These oils are used in massage sessions in which lovers can administer to each other. Massage therapy started thousands of years ago as a means of relaxation and rejuvenation. The power of touch is undeniable, and the benefits of massage are many.
Today, people use massage for everything from relieving stress and tension to improving circulation and rekindling romance that has died out. There are many different types of massage, but one common denominator is the use of oil. Massage oil helps to lubricate the skin, making it easier for the masseuse to manipulate the muscles. It also helps to reduce friction, making the massage more comfortable for both parties.
There are many kinds of massage oils available on the market, each with its own unique benefits. Natural oils are the best choice for those who prefer natural wellness and those with sensitive skin, as they are less likely to cause irritation. Essential oils make for some of the best sexual massage oils. However, for topical use such as a massage, they must be diluted with suitable carriers. Carrier oils also come with their own unique benefits for that sensual experience.
Here are some of the best carrier massage oils:
1. Jojoba Oil
Jojoba oil is derived from the jojoba plant, which is native to the deserts of Arizona, California, and Mexico. The oil is very similar to the sebum that our skin produces, so it is easily absorbed. Jojoba oil is also non-greasy and won't clog pores.
2. Sweet Almond Oil
Sweet almond oil is extracted from almonds. It is light in texture and has a sweet, nutty aroma. Sweet almond oil is an excellent moisturizer and can help to soothe dry, irritated skin.
3. Avocado Oil
Avocado oil is extracted from the flesh of avocados. It is rich in vitamins A, D, and E, as well as fatty acids. Avocado oil is thick and creamy, making it ideal for dry or mature skin.
4. Grapeseed Oil
Grapeseed oil is extracted from the seeds of grapes. It is light in texture and has a slightly sweet flavor. Grapeseed oil is high in antioxidants and can help to protect the skin from damage caused by free radicals.
5. Coconut Oil
Coconut oil is derived from the flesh of coconuts. It is rich in fatty acids and has a soothing, moisturizing effect on the skin. Coconut oil can help to reduce inflammation and redness.
The list of carrier oils is long. Essential oils are highly potent and deliver the main benefits in a sexual massage.
Expert Tips On the Best Sexual Massage Oils
To find out which essential oils are best for a sensual massage, we spoke to Ava Collins.
Ava is a Massage Therapist CEO/Founder of Adelaide Examiner. Adelaide Examiner strives to provide the finest attractions, breweries, and entertainment spots. In addition to cleansing, exfoliating, and moisturizing the skin, Ava offers massages, waxing, laser therapy, and make-up application.
Briefly tell us how essential oils work to provide the desired outcome in a sensual massage.
By increasing awareness, blood flow, and relieving pain in particular areas, massages help the body relax. They're a great way to deepen your relationship with your partner or reconnect with your body. Physical contact and a higher level of romantic and emotional intimacy have been linked in numerous studies. There are additional health advantages to it.
Please give us a list of top essential oils that are ideal for a sexual massage.
Rose
Dopamine, which is helpful in lowering anxiety and nerves, can be stimulated by rose oil.
Due to its floral and pleasant qualities, it is good for spirituality as well. It acts as a natural aphrodisiac and increases sexual stamina and thoughts, which increase libido. Love grows, couples are happier, and sexual life is more interesting. Protection against the negative effects of formaldehyde inhalation is also made possible by rose oil.
Ylang Ylang
This is one of the key oils that comes with euphoric properties that can help with erectile dysfunction. In addition, ylang ylang helps boost libido and has a significant impact on mood. It is a natural aphrodisiac, which gives it the ability to foster attraction in couples. Its scent is so potent that it improves connections bolstering sexual energy and power.
Jasmine
Since ancient times, jasmine oil's rich, sweet aroma has been used to increase libido and foster intimacy. Both men and women find it to be attractive. It raises energy levels, mood, and good feelings. Additionally, it activates the brainwaves, which might increase sensitivity to sex cues and possibly improve blood flow to the penis.
Sandalwood
Most recent study finding have shown that women can benefit from inhaling this oil to improve their mood for intimacy. In the study, women who inhaled the oil during sex reported having increased levels of desire compared to those who did not inhale.
Clary Sage
This is a helpful oil when it comes to hormonal issues in women. Clary sage oil lowers stress hormones and this is helpful in creating an intimate mood. There are many others, but this is a list of tops oils for this job.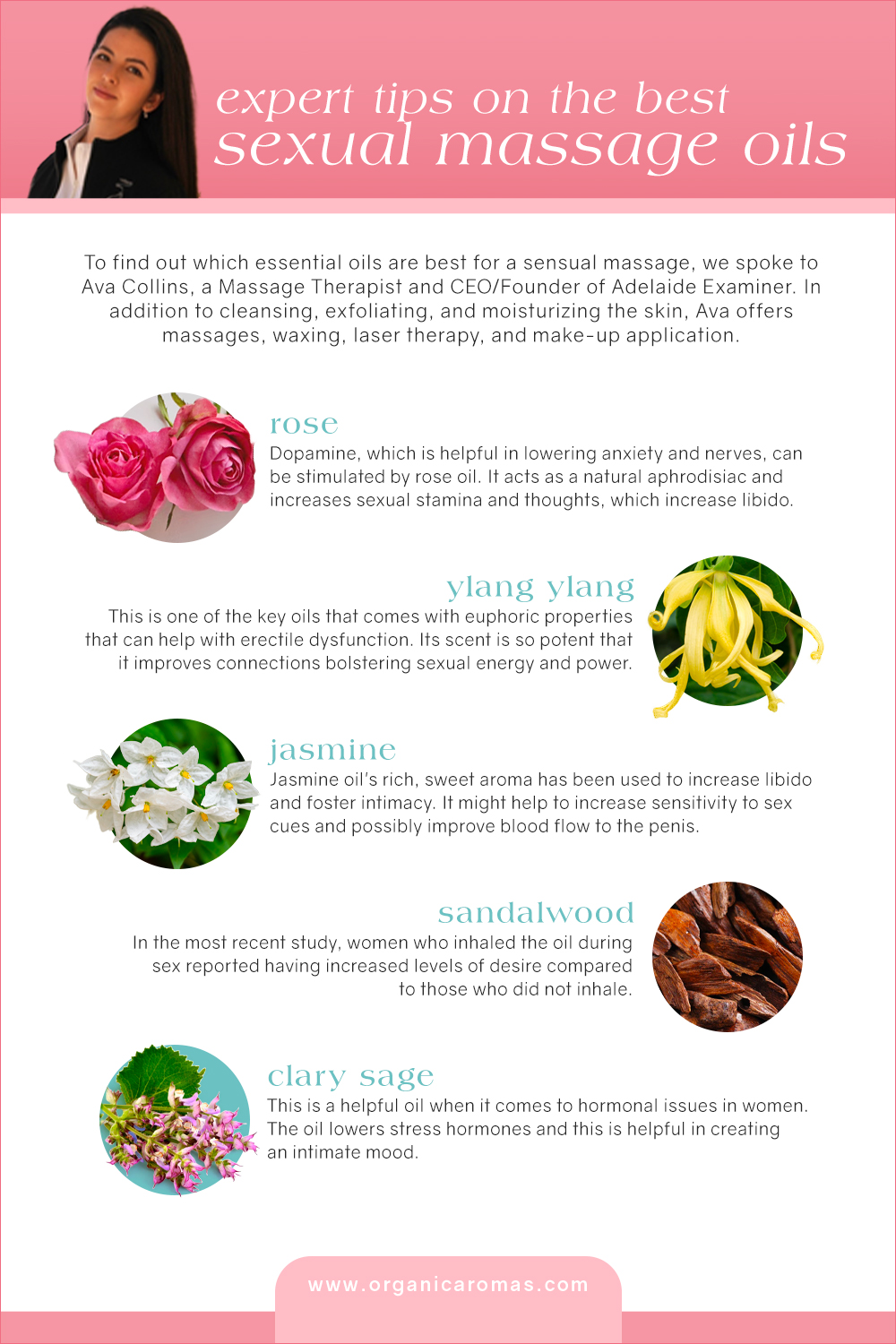 Tips to Buy Sexual Massage Oils
There are a few things that you should look for when buying massage oils. The first is that you should make sure that the oil is 100% pure. This means that it has not been diluted with any other substances. You should also look for oils that have been cold-pressed. This means that they have been extracted from the plant without the use of heat or chemicals. Oils that have been cold-pressed are likely to be more beneficial than those that have not.
Finally, you should consider the smell of the oil. Some people prefer oils with a strong scent, while others prefer oils with a more subtle scent. When it comes to choosing the right massage oil, you should also consider the purpose of the massage.
For example, if you are looking for an oil to use during a deep tissue massage, you will want to choose an oil that is designed for this purpose. On the other hand, if you are looking for an oil to use during a Swedish massage, you will want to choose an oil that is designed for this purpose. In the case where you are looking to boost intimacy in your love relations, sexual massage oils highlighted above are ideal.
Precaution
There are a few things to keep in mind when using massage oils. You should always test the oil on a small area of your skin before using it over your entire body. This will help you to determine if you are allergic to the oil or if it will cause any irritation.