Maintaining your health is the single most important thing in life for most people. After all, without good health it can be difficult to feel good mentally as well as physically, and poor health can greatly diminish your enjoyment of each day and what it has in store for you.
Some diseases can be much more difficult to manage than others, and lupus is one of the most serious out there. Finding the right treatments for lupus is important, and essential oils could be a part of your daily regimen.
What is Lupus?
Lupus is a type of chronic autoimmune disorder. It causes the immune system to rebel against the body and attack the healthy organs and tissues within it. In short, your immune system begins to fight against your own body. This can be incredibly distressing to physical health and triggers high levels of inflammation throughout the body. Lupus can impact virtually every part of your body including:
The heart
Joints
Kidneys
Liver
Lungs
Brain
Stomach
Making matters worse, lupus symptoms are often similar to a number of other conditions like thyroid problems or fibromyalgia. Because of this, lupus is often misdiagnosed for some time before finally discovered to be the culprit causing problems. In fact, it can often take years to finally be diagnosed with this disease and start confronting it.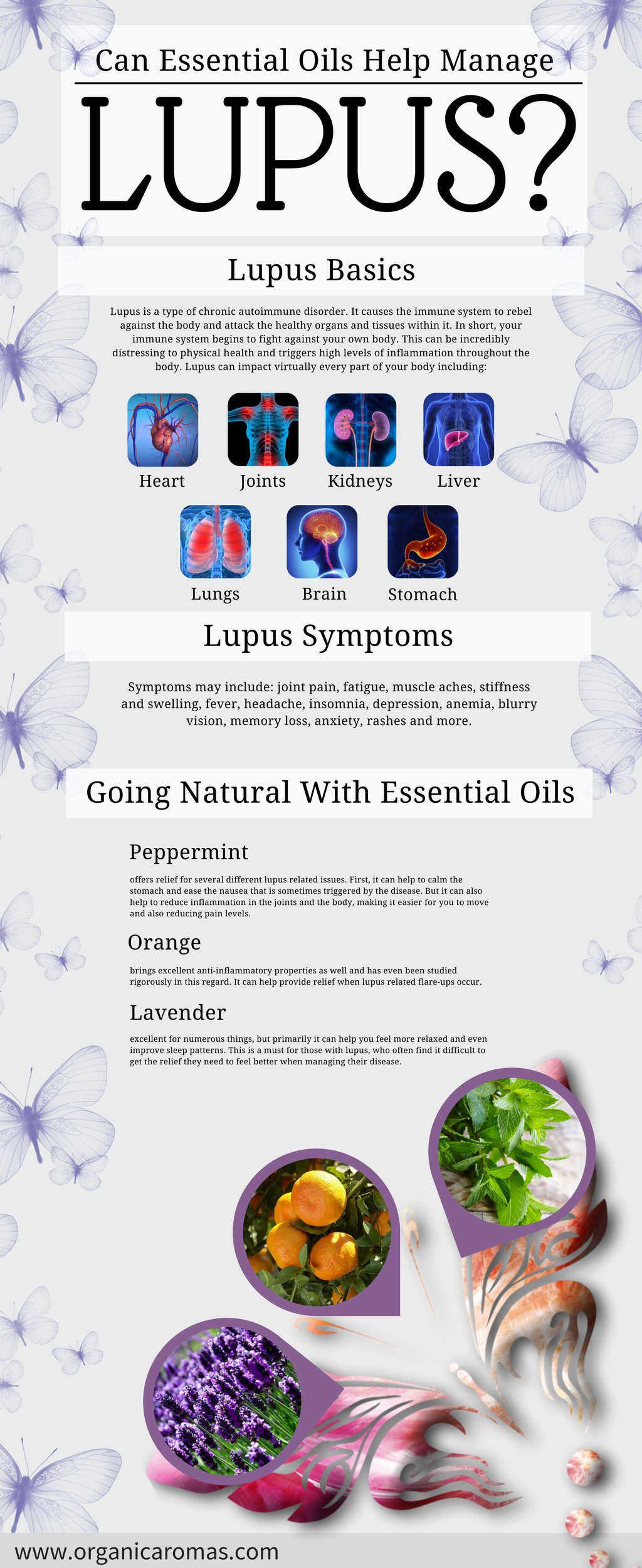 What are the Symptoms of Lupus?
Symptoms may include:
Joint pain
Fatigue
Muscle aches
Stiffness and swelling
Fever
Headache
Insomnia
Depression
Anemia
Blurry vision
Memory loss
Anxiety
Rashes
How to Live a Healthy Life with Lupus?
Fighting lupus once it's been diagnosed generally involves reducing the inflammation that it causes. This is often done through things like corticosteroids, thyroid medications, and hormone therapy along with pain relievers to help reduce the pain the inflammation causes. However, these numerous medications can cause side effects, cost a tremendous amount of money, and lead to additional issues. For many, finding a natural treatment is a better option.
Going Natural With Essential Oils
Looking into natural ways to help manage lupus is something that can ease the need for prescription drugs. While you should always talk to your medical professional and should never quit taking prescription medications just because you're tired of doing so, there are several natural steps you can take that may help – including the use of essential oils.
Start with the foundation for a healthier life – diet and exercise. There are numerous foods that can make lupus worse, including foods with excess sugar, trans fats, or gluten as well as caffeine and alcohol. Instead, it's best to load up on fruits, veggies, and lean proteins.
Once you begin exercising and eating healthier, essential oils can help add some extra relief to lupus. Again, keep in mind that essential oils will not cure lupus. However, they could give relief to problems that lupus triggers like joint mobility, sleep issues, pain, and feelings of well-being. Add them to your lupus treatment regimen and you may find that natural relief is easier to attain than you realize.
Here are some of the best essential oils to use for those who have lupus:
Peppermint – Peppermint offers relief for several different lupus related issues. First, it can help to calm the stomach and ease the nausea that is sometimes triggered by the disease. But it can also help to reduce inflammation in the joints and the body, making it easier for you to move and also reducing pain levels.
Orange – Orange essential oil brings excellent anti-inflammatory properties as well and has even been studied rigorously in this regard. It can help provide relief when lupus related flare-ups occur.
Lavender – Lavender is excellent for numerous things, but primarily it can help you feel more relaxed and even improve sleep patterns. This is a must for those with lupus, who often find it difficult to get the relief they need to feel better when managing their disease.
 How to use Essential Oils?
In order to use essential oils, you'll have two primary options. Using them in an essential oil diffuser is the first and most common. Just add a few drops to a diffuser and allow the aroma to fill the room. The aromatherapy can help to relax you and bring about other therapeutic changes.
Another option is to apply essential oils topically. Mix the essential oil with a carrier oil like almond or coconut oil in a 3% diluted solution and massage into the skin on the affected areas. This can help reduce swelling directly, minimize pain, and bring additional relief when needed.
The bottom line is that yes, essential oils can help manage lupus and lupus related symptoms. They're not a cure, but can certainly help ease the pain, swelling, and other problems that this disease can bring. As such, they're well worth a try for those dealing with lupus.