Everyone needs a little boost from time to time. We don't get enough sleep, we fall victim to stress and worry and anxiety, and all of the chaos of the busy lives we lead can lead to us feeling sluggish and not at all like ourselves. This can really have a strong impact on our outlook on life.
Thanks to essential oils, we can get that boost that we need to put that pep we need back into our step, and help us to feel energized, calm, and collected to face each day. The best part of this is that they are natural, inexpensive and easy to use in our homes, work and personal life, so you don't have to spend a lot of money getting a certificate or going to an aromatherapist in order to achieve the results you need.
If greater focus and increasing mental acuity is what you're looking for, we have the essential oils for you. Each of these can be used with one of our Essential Oils Diffusers to keep your home smelling great and your mind at ease.
Rosemary has a very sharp scent that is great for memory enhancement. Whether you're having trouble remembering your schedule, important dates, or just having difficulties with recollection in general, rosemary essential oil may be able to help you. It can be used in a diffuser, in the bath, or you can even rub a drop on your wrists or palms to help you achieve balance and a fresher memory.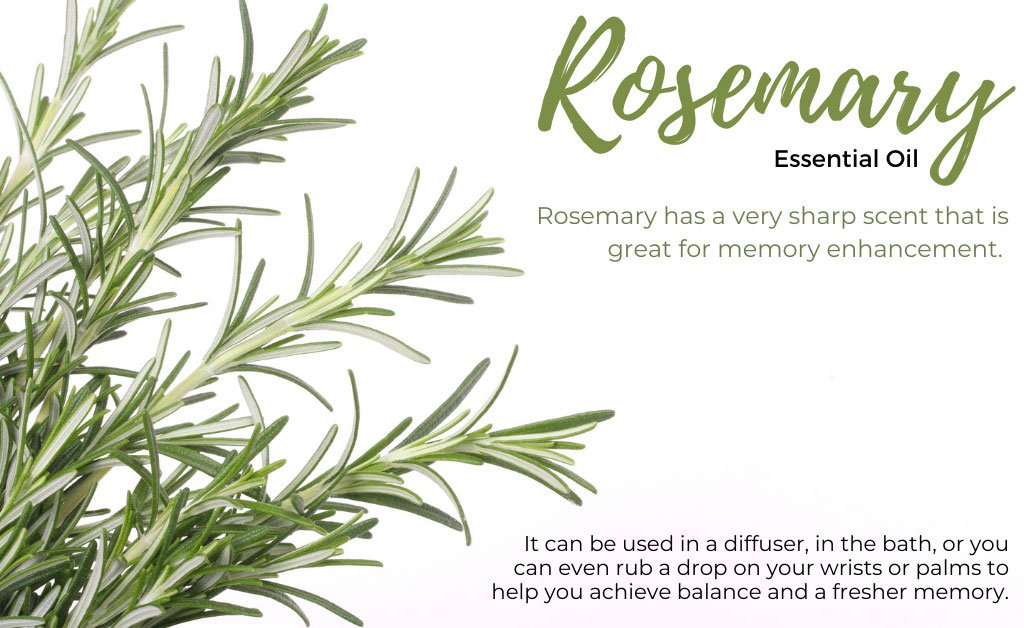 Eucalytpus
Is another powerful fragrance that can help increase alertness and refresh your mind. This oil is common and many people use it to help clear the sinus and treat respiratory problems. Eucalyptus has a camphorous and minty scent, and can help to greatly improve your concentration with a very pungent, fresh and crisp aroma permeating throughout your home.
Spearmint
If you're having trouble waking up in the morning, then you might try spearmint essential oils to help wake you up and boost your energy. This is especially helpful if you're trying to stimulate your appetites, wean yourself off of coffee or just want to achieve the right mental state for a busy day full of activity.
If you are looking for something powerful, then peppermint might be more to your liking. This can be used in a diffuser or even a single drop added to your tea to help to boost your senses and get you going in the morning. Not only that, but peppermint also helps to focus your mind and senses, leading to improved memory, and is also great for soothing headaches. It's an all-around helper of an essential oil, and smells amazing, to boot!
Sweet Orange
If you're needing a memory boost, sweet orange essential oil can also help. The scent is sweet and extremely refreshing, and can help relax you and clear your mind so it can work at full capacity. Because it helps you relax, it can boost your focus as well, so it makes a great study buddy, too.
Pin It!