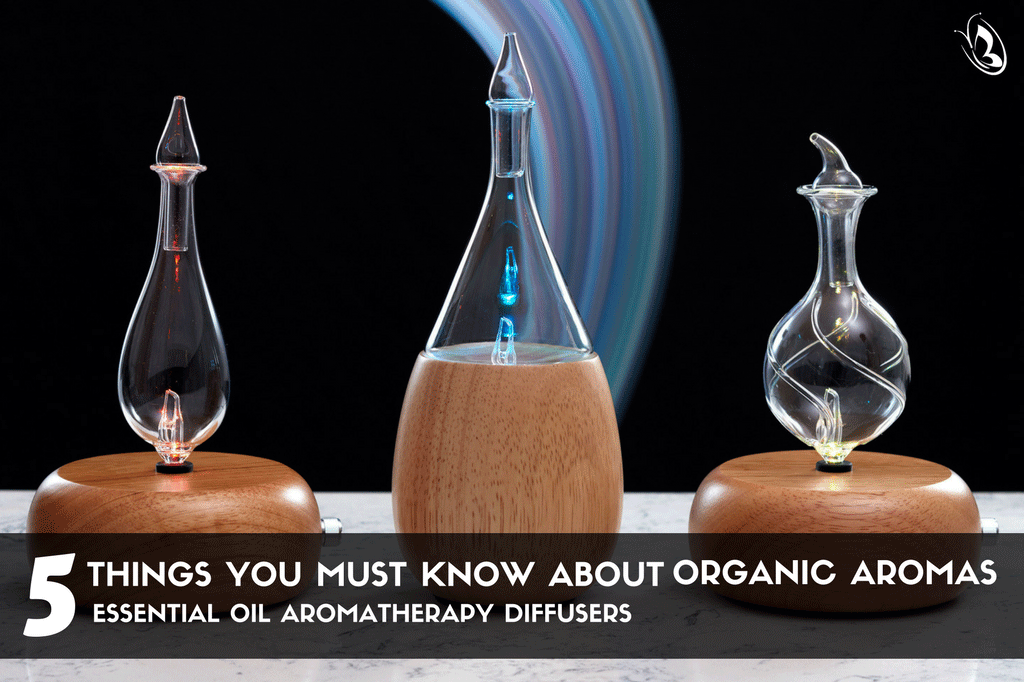 We have received a lot of good feedback from interaction with our customers recently and we want to clarify a few important points. There are a lot of interesting things that we want to make clear to everyone using and considering using one of our nebulizing essential oil aromatherapy diffusers.
1. Organic Aromas Diffusers Have a Built-in Timer
Firstly, the devices do have a built-in programmed timer. They operate for 90 minutes at a time (this is called one usage cycle). Each time the diffuser is turned on it will run for 2 minutes and then will stop for 1 minute. This process, (on/diffusing for 2 minutes and stopping/off for 1 minute) will automatically shut off completely after 120 minutes. Our diffusers also have a "volume" dial (and power switch) on the side of the unit. You can use this to adjust the strength of the diffuser from light to heavy. This means you can control how much essential is diffused at a time according to your personal taste or need. This is useful as the amount of oil you might want to diffuse could vary depending on the size of the room you have and the specific activity you have in mind. See how it works.
2. Nebulizing Diffusers are Powerful
Our diffusers are very powerful. They can easily diffuse beautiful scent in a room more than 45 square meters in size. A standard hotel room of 5 sqm x 5 sqm for example, is too small to use the diffuser on full power. You can adjust the diffuser power to suit your needs. You will need to turn down the "volume" to achieve the appropriate concentration of pure essential oils in air.
3. Calming LED Light Feature
It should be noted that most models contain an elegant rainbow-colored LED night light that cycles gently through various colors very slowly. It is absolutely delightful and very calming. The light will stay on as long as the unit is on. The "Exquisite" series of diffusers has only a white LED light. That creates a different style that is more suitable to its' sharp, modern look.
4. Free Shipping Worldwide on Order Greater Than $30
We send our diffusers around the globe and offer free shipping on orders over $30. There is one exception to this rule and that is when you order the Mobile-Mini you will be charged a special shipping fee because the unit has a lithium-ion battery and is classified as a dangerous good. Keep in mind that our diffusers can be used ANYWHERE in the world as their electrical components can maintain both 110 to 240 voltage. We take extra effort to provide an electric plug that is suitable for your particular market. USA, UK, Europe, Australia, Asia, you name it we can provide it.
5. One Year Free Warranty
Sign up for our free Warranty which covers malfunctions, parts and service for one year from the date of purchase. This means that we will repair for free any diffuser that malfunctions for up to one year from the date of purchase. If you frequently clean and maintain your unit, you are very unlikely to need any kind of repair ever.
We will make sure you are 100% satisfied!