The COVID-19 virus caused a global pandemic in 2020 and has been a widespread concern ever since then. People are constantly in search of ways to fight the virus and eliminate symptoms. Some people turned to essential oils for help, but do they really do any good against COVID-19?
Natural, essential oils cannot stop or heal the COVID-19 virus, but they can help lessen the symptoms and side effects. Essential oils have antiviral, anti-inflammatory, and antimicrobial properties. Some of the best oils for this are lavender, lemon, eucalyptus, peppermint, tea tree, and oregano.
Natural remedies, including essential oils, can sometimes offer an alternative solution to help treat those who have been affected by the COVID-19 virus. Here is everything that you need to know about essential oils and their role against COVID-19:
What Are Essential Oils?
Essential oils are extracts from plants that are compacted and turned into oils through various processes. These processes include distillation through steam or water or cold pressing. Once these chemicals become extracted, they are combined with a type of oil called carrier oil. Together, these create essential oil products. These oils contain the "essence" of the plants, which is where they get their name.
Essential oils have also been called "natural remedies" or "alternative medicine." They provide a method of treatment for people who oppose, have issues with traditional medicine or wish to use alternative options in combination with Western medicine. Essential oils can have many different purposes, but they are widely used and distributed throughout various companies.
How to use Essential oils:
Aromatherapy uses the inhalation of essential oils. When essential oils are inhaled, they can activate the limbic system. The limbic system is responsible for behaviors, emotions, sense of smell, and long-term memory. Inhaling stimulating essential oils can help produce appropriate responses in the limbic system, where hormones that help with different functions are produced. For example, lavender can help the body sleep longer.
If you inhale lavender before bed, the lavender will send a message to the limbic system to relax your muscles, and you will therefore fall asleep easier.
Diffusers can utilize aromatherapy by creating a pleasant-smelling room and producing positive health benefits for those in the room and near the diffusers.
Essential oils can also be diluted and applied directly to the skin. When applied to the skin, the plant chemicals can be absorbed and positively affect the body.
The Fight Against COVID-19
Near the end of 2019 and the start of 2020, a new variation of the SARS virus, called COVID-19, became a deadly pandemic around the world. This virus, which is also referred to as the Coronavirus, is an infectious respiratory virus that can cause an infection in the nose, sinuses, or upper throat. This virus presents itself differently in different patients and can spread through direct contact or water droplets.
Ever since the virus outbreak grew to a pandemic, doctors and physicians have been actively looking for ways to prevent, treat and eradicate the disease. They encourage social distancing, the use of masks, and heavy use of hand sanitizer (with an alcohol content of at least 70%), and encourage people to do all that they can to remain healthy.
Alongside scientists and doctors, people have been looking for their own ways to prevent the disease and to lessen the side effects. Many have turned to natural remedies and alternative forms of medicine to help in the fight against the effects of the virus. Some of these natural remedies include the use of essential oils as a way to combat and lessen the effects of the virus.
It's important to note that essential oils have never been proven to successfully prevent people from contracting COVID-19, but they can be used as a natural supplement for people who are sick.
Is There a Role for Essential Oils in the Fight Against the New SARS Virus?
Essential Oils as Immunity Boosters:
Essential oils have been used to help build up the body's natural immunity to defenses. Essential oils effectively build up the immune system because of their antiviral, anti-inflammatory, and antimicrobial properties. Some of the best oils to help build a healthy immune system are lavender, lemon, eucalyptus, peppermint, tea tree, and oregano.
These essential oils can boost your immune system through various ways, including relaxation of the body, which allows it to strengthen its natural resources and build up a defense against viruses and diseases. If the body is overly stressed, the immune system is weaker and less likely to do its job.
Boosting your immune system does not guarantee that you will be unaffected by COVID. However, by boosting your immune system and using these antiviral oils, you can help your body combat the side effects of COVID and, if you get the virus, they may decrease the duration that you are affected by it.
Essential Oils as Anti-inflammatory
Essential oils have been known to have anti-inflammatory properties. These anti-inflammatory properties can help with reducing the severity and side effects of commonplace sicknesses. For example, essential oils such as peppermint, tea tree, and eucalyptus have been known to help reduce the swelling and inflammation in the airways and nasal passageways of patients who have a common cold.
Essential Oils as Antiviral Agents:
According to a study done in May of 2020, essential oils have been screened against several pathogenic viruses. These viruses include influenza, as well as other respiratory viral infections. The study demonstrated that essential oils act synergistically with other treatments and produce a positive result. They also can activate other antiviral agents. The study also stated that these essential oils have a high potential to help lessen the side effects of COVID. Again, they aren't a complete substitute, but they may help a bit.
Essential Oils as Lipids:
The research and science literature on this topic has produced a great deal of evidence about the effectiveness of essential oils against bacteria, viruses, microbes, and fungi. In the book, Lipids and Essential Oils as Microbial Agents, doctors and scientists confirm the effect of essential oils on viruses. Essential oils can help penetrate the lipid layer of viruses easier than many other medicines can. Therefore, essential oils can be an effective natural remedy to help alleviate symptoms and shed the virus.
How to Effectively use Essential Oils to Manage COVID Side Effects: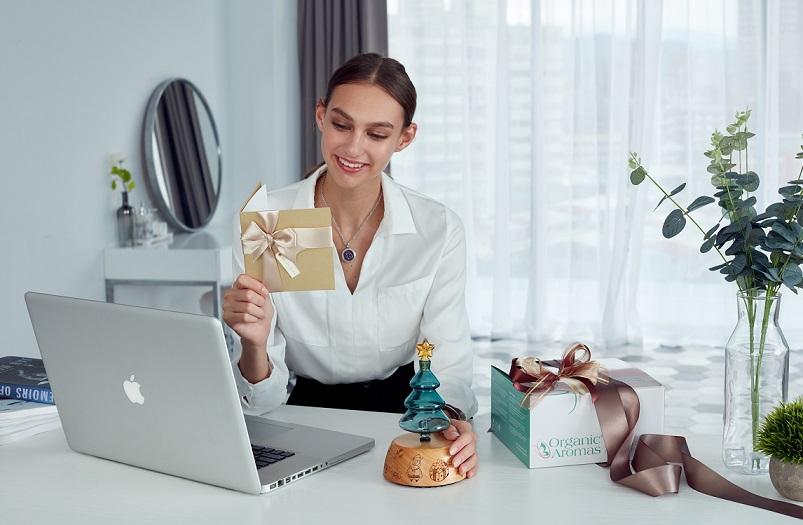 As discussed earlier, essential oils have various methods of use. After surveying a Facebook essential oil group, we found that over half of the responders (about 60%) believed that using a diffuser with diluted oils was the best way to utilize the most positive effects from the oils.
About 40% believed in applying the oils directly to the skin on their feet each night so that the properties of the oils would be absorbed into the bloodstream.
In the survey, the majority of users believed that these oils have properties that can protect your body from COVID, and they can help lessen the side effects of COVID, but they cannot completely eradicate the disease, nor can they guarantee that you will not get the disease.
The Role of Essential Oils in the Management of COVID-19
A variety of authors, including Ahmed Al-Harris, Saurabh Bhatia, and Tapan Behl, are publishing a book called Role of Essential Oils in the Management of COVID-19. This book is set to be published on November 1st, 2021.
This book helps to examine how natural therapy using essential oils is a safe and effective method to improve health, cure ailments, and soothe the body and the mind. This book examines and discusses the various elements associated with essential oils. This includes the extraction process, dispensing method, chemistry, therapeutic effects, quality of control, application and various other factors that can help isolate and identify the true role of essential oils in the ongoing battle against COVID-19.
Ahmed Al-Harassi is one of the primary authors of this book. He is a doctor of Organic Chemistry who was awarded the Fulbright award in 2008. He founded the Natural and Medical Sciences Research Center, merging chemistry and biology research at the University of Nizwa, Oman, and he is currently serving as a professor of organic chemistry.
Dr. Saurabh Bhatia, another primary author of this book is a Doctor of Pharmaceutical technology and is working as an Associate Professor at Natural and Medical Sciences Research Center, University of Nizwa, Nizwa, Sultanate of Oman, and Adjunct Associate Professor, Amity University Haryana, India. He has been actively involved for about 12 years in academic experience and research on nanotechnology, biotechnology, microbiology, analytical chemistry, and many other fields.
The authors of this book seek to convey the truth about the role Essential oils play. Help support them by preordering a copy of their book.
Best Essential Oils to Help Combat COVID Side Effects:
Eucalyptus:
According to a research article put out by PMC labs, eucalyptus is used to help treat respiratory infections such as bronchitis, sinusitis, and pharyngitis. Eucalyptus is a common essential oil and has many healing properties. This essential oil has been shown to help the muscles relax, therefore opening up the airways.
Eucalyptus oil has also been shown to have positive results on asthmatic patients and has both reduced the severity of an asthma attack and helped to prevent a future asthma attack through the use of relaxing the airways and reducing inflammation, as well as decreasing stress levels that can lead to a possible attack.
Eucalyptus has also been shown to have positive effects in fighting viral infections and certain viruses, such as mumps and herpes. Essential oils with eucalyptus have been able to help inactivate frees influenza A and disrupt the structures of the virus.
Eucalyptus has been shown to have high antiviral activity and is successful against viral respiratory infections. Therefore, eucalyptus can be positively used to help fight the COVID-19 virus once it enters the body. Reports have shown that the severity of the virus and the likelihood of death are due to the lungs' inflammation. Eucalyptus has been shown to decrease and minimize inflammation.
Lavender:
Lavender is one of the most researched essential oils types. Lavender is the most effective oil in helping the body relax and destress. High-quality lavender essential oils contain linalool and linalyl that, when put together, produce a calming effect. Lavender affects receptor activity. The receptors that it affects trigger the parasympathetic nervous system, which in turn causes the body to calm down.
This de-stressing of the body can help patients relax, which means that their immune system is going to function a lot better. Not only does it help their immune system, but if their muscles are relaxed, they are going to sleep better, and sleep helps protect and repair the body's defense system.
Tea Tree Oil:
Tea tree oil is an essential oil that is antibacterial and has been used to kill off bacteria and effectively fight viruses. Tea tree oil is effective because it contains aldehydes and phenols. Aldehydes are a disinfectant that can sterilize and kill fungi, bacteria, and viruses. Phenols, on the other hand, are compounds that act as antioxidants, and these also have antimicrobial properties.
Tea tree oil has been known as a treatment for acne to attack and manage the bacteria on the face and to safely eradicate it. However, tea tree oil also has properties that can help to reduce COVID symptoms. Tea tree oil is antiseptic and contains anti-viral properties. Many essential oil advocates have created handmade hand sanitizer recipes, which include a tree oil blend to help kill bacteria and potential viruses.
Caution Using Essential Oils
Although Essential oils have many healing properties that can be beneficial, you should use caution when using essential oils. These oils should be used for their intended purpose only, and unless the oil is specifically defined for ingestion, you should not consume the oil.
Essential oils should be kept out of reach of young children, to decrease the risk of unsafe consumption or usage of the oils.
Furthermore, when Essential oils are used in a diffuser, they should be used in 30-60 minute intervals and not for any longer. The diffusers should also be used in well-ventilated areas.
Diluting the oil is a good idea too. Although it is not always necessary to dilute the oil, it is best to be safe rather than sorry, so that there is less of a chance of the pure oil extract causing harm or damage in any way. Dilution is especially important when applying oils topically. Undiluted, pure oils should not be applied directly to the skin.
Certain Essential oils are likely to irritate the skin, and as such, they should be used with extreme caution. Essential oils such as lemongrass, clove, and cinnamon bark are more likely to cause irritability than others.
Finally, remember that Essential oils are not miracle cures. They cannot make COVID, or any other disease go away automatically.