When it comes to household pests, what comes to mind? Ants, spiders, and maybe even mice are often the first things mentioned. But one that is a bit rarer but that can be even more detrimental to a home is bed bugs.
They're the stuff of nightmare for many, and can create a serious problem in the home due to their resilience and the lengthy process needed to get rid of them. Add this to the fact that they can be introduced to the home without realizing it, and it becomes clear that managing bedbugs is something that needs to be done immediately.
Luckily, there are plenty of options out there that can help. And best of all, there are plenty of natural options that can make a difference as well. Certain essential oils could be just what is needed to eliminate bedbugs and keep your home or business protected.
Why Trying Natural Options Makes Sense
There are plenty of reasons that going with natural bedbug treatments makes so much sense, but the obvious one is simple – they're effective. To get the absolute best results you'll want to combine different steps – essential oils, removal of contaminated linen, and so on – but the fact remains that you'll be able to get rid of the bed bugs naturally.
But there are other benefits to going natural with your bedbug treatment, including the following.
No use of harmful chemical sprays or liquids. This helps you avoid introducing the environment to potentially dangerous pesticides just for the sake of eliminating bugs.
Natural methods are more affordable and help you save money over paying for those expensive sprays and pesticide options.
Using essential oils leaves behind a pleasant scent that can provide very real aromatherapy benefits to your life. You get rid of bedbugs and get improved mental and physical health in the process.
In short, using natural bedbug treatment options like essential oils is something that deserves your attention and that could be a better way to combat these invasive pests.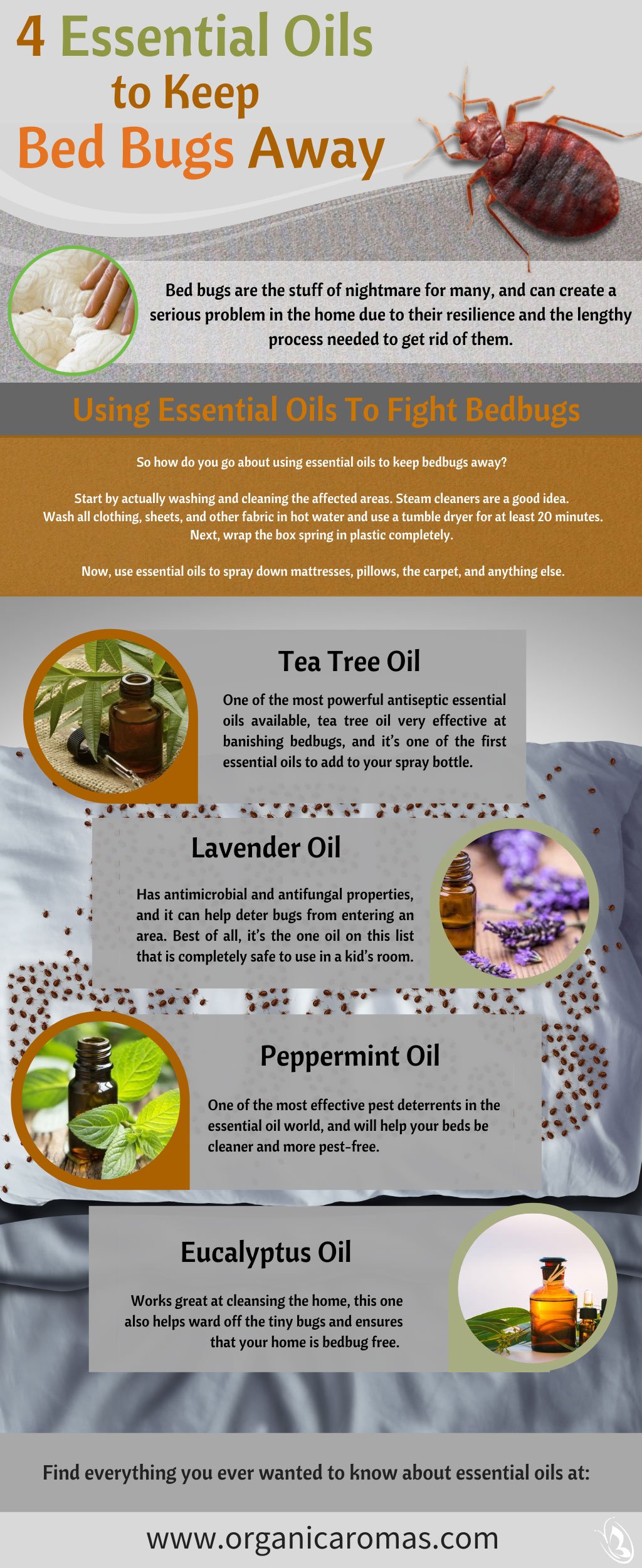 Using Essential Oils To Fight Bedbugs
So how do you go about using essential oils to keep bedbugs away? It's not always easy, and the first thing to bear in mind is that it can take multiple treatments and some patience to finally get rid of bedbugs entirely.
Start by actually washing and cleaning the affected areas. Steam cleaners are a good idea here, and can be rented for a modest fee that is well worth it for what they provide. Wash all clothing, sheets, and other fabric in hot water and use a tumble dryer for at least 20 minutes. This will kill the bugs that exist within it.
Next, wrap the box spring in plastic completely. This lets you seal in any bedbugs that might be left behind and essentially starve them to death. Now, use essential oils to spray down mattresses, pillows, the carpet, and anything else. This helps serves as a final treatment.
It's also worth noting that essential oils are even more effective when used as a preventative measure. Preventing bedbugs is much easier than getting rid of them, and by mixing about 30 drops of an essential oil into a spray bottle with water (and maybe even a small bit of isopropyl alcohol) and then shaking well, you'll have a mixture that can be used while you're travelling to prevent bedbug infestations from occurring. Spray your luggage regularly while on the go, and the essential oils will discourage bedbugs from hitching a ride to your home.
The Top 4 Essential Oils To Fight Against Bedbugs
Now that you have a basic idea about how to use essential oils to keep bedbugs away, all that's left is using the right ones. Certain essential oils are much more effective at fighting off bedbugs. Here are the 4 best ones to use in the plan outlined above.
Tea Tree Oil – One of the most powerful antiseptic essential oils available, tea tree oil is often used to help kill lice and eliminate them from occurring again. That same ability is why it's so effective at banishing bedbugs, and it's one of the first essential oils to add to your spray bottle when mounting a battle against them.
Lavender – This essential oil is, to put it simply, essential. It not only has antimicrobial and antifungal properties, but can help deter bugs from entering an area. And it's also effective at reducing overall mental and physical stress. Best of all, it's the one oil on this list that is completely safe to use in a kid's room.
Peppermint – Peppermint's bright scent is refreshing and perfect for uplifting the mind and body. It's also one of the most effective pest deterrents in the essential oil world, and will help your beds be cleaner and more pest-free.
Eucalyptus – Another oil that works great at cleansing the home, this one also helps ward off the tiny bugs and ensures that your home is bedbug free.
Pin It!