Back pain can turn an average day into a nightmare, especially when it's in the lower portion of your back. It can be difficult to sit, stand, or even lie down unless you can find a position that gives you some relief.
Those who are required to sit at a desk for a majority of their workday are commonly more prone to lower back pain, but the pain can strike anyone at any time. From muscle strains to osteoporosis, the multiple causes of lower back pain all add up to one thing: misery. Let's get deeper into the many causes of back pain.
The Many Causes of Back Pain
1. Muscle or Ligament Strain
Repeated heavy lifting or sudden awkward movements can strain your back muscles and spinal ligaments. If you're in poor physical condition, constant strain on your back can cause painful muscle spasms.
2. Bulging or Ruptured Disks
Disks act as cushions between the bones (vertebrae) in your spine. The soft material inside a disk can bulge or rupture and press on a nerve, causing back pain.
3. Arthritis
Osteoarthritis can affect the lower back. In some cases, arthritis in the spine can lead to a narrowing of the space around the spinal cord, a condition called spinal stenosis.
4. Skeletal Irregularities
A condition called scoliosis, where your spine curves to the side, can also lead to back pain, but generally not until middle age.
5. Osteoporosis
Your spine's vertebrae can develop compression fractures if your bones become porous and brittle due to osteoporosis.
6. Sedentary Lifestyle
Lack of exercise, sitting for prolonged periods, and a sedentary lifestyle can result in back pain. This is because your muscles become weak, and there's added stress on your spine.
7. Poor Posture
Slouching or hunching over your desk or steering wheel can cause strain on your back muscles and spinal ligaments, leading to back pain over time.
8. Psychological Conditions
Research has shown that people who are depressed or anxious are more likely to experience back pain. Stress can also result in muscle tension, leading to discomfort.
9. Smoking
Smokers have increased rates of back pain. This could be because smoking prompts more coughing, which can lead to herniated disks. Smoking can also decrease blood flow to the spine and increase the risk of osteoporosis.
10. Obesity
Being overweight puts added pressure on your spine and can contribute to back pain.
Understanding the root cause of your back pain is imperative to treating it effectively. If you're suffering from persistent back pain, it's important to consult with a healthcare professional to diagnose the issue and determine the best course of treatment. A certified aromatherapist can also guide you into using essential oils for treating back pain.
Pain Relief That Does Not Involve a Prescription
Lower back pain can range in severity from mild to excruciating. Those with more intense levels of pain often turn to over-the-counter or prescription pain killers that can bring quick relief, but taking them too often can result in a variety of side effects.
Those who prefer natural remedies might turn to pain relief that includes alternating heat and cold, a message, or use of a topical ointment. Using essential oils for back pain is another natural way to bring relief for those who prefer to limit their NSAID intake.
The Benefits of Using Essential Oils for Back Pain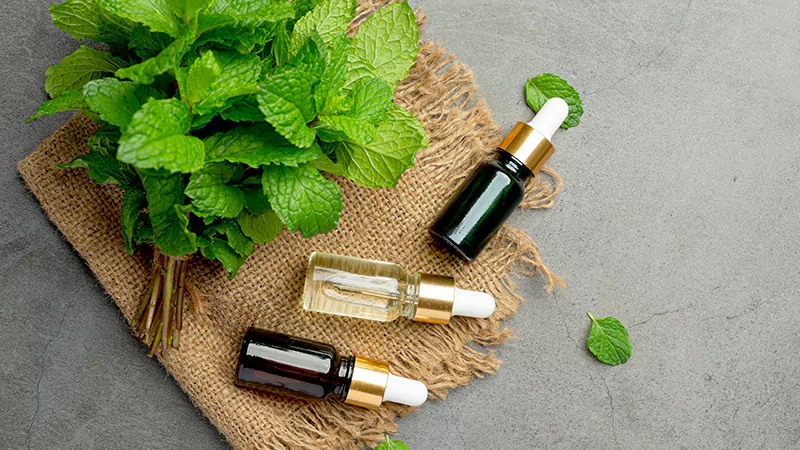 1. Natural Pain Relief
One of the primary benefits of essential oils is their natural pain-relieving properties. Oils like lavender and eucalyptus contain compounds that can help reduce pain and inflammation in the body.
2. Stress Reduction
Stress can often exacerbate back pain. Oils such as chamomile and lavender are known for their calming effects, which can help reduce stress and tension in the body. This can indirectly contribute to easing back pain.
3. Improved Sleep
Poor sleep can worsen back pain. Certain essential oils such as: lavender oil and vetiver are known to promote better sleep. A good night's sleep can aid in the healing process of the body and help manage pain better.
4. Enhanced Circulation
Some essential oils like rosemary oil and thyme can help improve blood circulation. Better blood flow can aid in faster recovery from injuries and reduce inflammation, thus helping with back pain relief.
5. Muscle Relaxation
Essential oils like marjoram and peppermint have properties that can help relax tense muscles. Relaxing the muscles in your back can help alleviate discomfort and relieve pain too.
6. Mood Enhancement
The aromatic properties of essential oils can relieve back pain and also help uplift your mood. Feeling positive can have a significant impact on your perception of pain.
7. Easy to Use
Essential oils are easy to use. They can be diluted oil applied topically (always diluted in carrier oil), used in a diffuser, or added to bath water.
Remember, while essential oils can provide relief from pain, they should not replace medical treatment for any chronic pain or severe conditions. Always consult a healthcare professional before starting any new treatment for treating pain.
Essential oil offer a natural, effective, and holistic approach to relieving the pain. They not only help alleviate muscle pain but also contribute to overall well-being by reducing stress, improving sleep, and enhancing mood.
What Essential Oils Help Lower Back Pain?
Some of the best essential oils for back pain include:
Eucalyptus Essential Oil – This is one of the most commonly used oils to treat muscle aches and pains. Eucalyptus essential oil has strong anti-inflammatory properties which make it ideal for use when diluted in a carrier oil and used in a message, or inhaled from a nebulizing essential oil diffuser.
Peppermint Essential Oil – The analgesic and anti-inflammatory properties of peppermint oil make it a wonderful choice treating this pain. It also eases headaches and nausea. The refreshing scent of peppermint essential oil can lift the spirits and soothe stress that comes from dealing with steady pain.
Lavender Essential Oil – A multi-use oil that can treat a range of ailments, lavender essential oil has anti-inflammatory properties that make it ideal for easing pain. It can also calm the nerves, reduce stress, and ease insomnia.
Frankincense Essential Oil – Long touted for its amazing beauty-benefits, using frankincense essential oil to help lower the pain is an obvious choice. With highly-relaxing properties and a soothing aroma, it can help ease tension and promote pain relief when used in the Radiance nebulizing diffuser.
Sweet Ginger Essential Oil – Famous for its treatment of nausea, which can accompany lower back pain on occasion, sweet ginger essential oil has a warming quality that can penetrate and soothe sore muscles and aches when used in a massage or inhaled from a diffuser.
Marjoram Essential Oil – The antispasmodic properties of marjoram make it a great essential oil to help lower the pain. It's a natural pain reducer that works especially well with overextended muscles without any unwanted side effects. Rosemary essential oil is also good when safely used for sore muscles in the back..

Important Safety Consideration
It's important to use essential oil safely and responsibly. Here are some safety considerations to make sure you keep in mind:
Quality matters
Always use high-quality, pure essential oils from a reputable source. Low-quality essential oils may also not provide the same therapeutic benefits as many essential oils and could potentially contain harmful contaminants.
Dilution is key
Essential oils are concentrated and can cause skin irritation or adverse reactions if applied directly to the skin. It's advisable to dilute them with a carrier oil (like an almond oil or jojoba oil) before topical application.
Avoid sensitive areas
Never apply essential oils to broken skin, mucous membranes, or sensitive areas like the eyes or mouth.
Allergic reactions
Some people may be allergic to certain essential oils. Always do a patch test on a small area of skin before applying the oil to a larger area.
Sign Up to Get Your e-Book Here
Pregnancy and breastfeeding
Certain essential oils should be avoided during pregnancy or while breastfeeding. Always consult your healthcare provider before using any new treatment.
Children and pets
Some essential oils can be harmful to children or pets. Always keep essential oils out of reach of children and consult your vet before using these oils around pets.
Ingestion
Ingesting essential oils can be dangerous and is generally not recommended unless under the guidance of a qualified professional.
Interaction with other medications
Essential oils for back pain can interact with certain medications or health conditions. If you're taking any medication or have a health condition, consult your healthcare provider before using essential oils.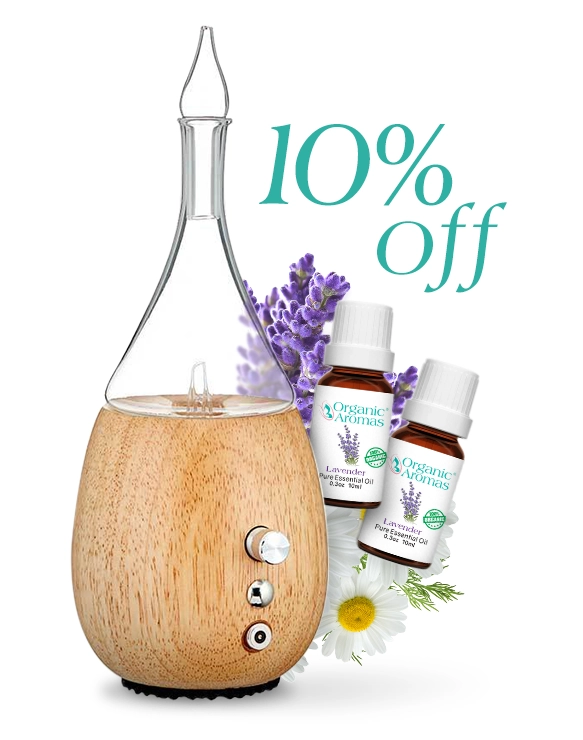 Give Me a 10% Discount!
Final Thoughts
Essential oils can be a natural and effective aid in managing pain in the back. They offer a holistic approach to pain management that avoids the side effects often associated with pharmaceutical treatments. Oils such as lavender, eucalyptus, and peppermint have been shown to have anti-inflammatory and analgesic properties that can help soothe muscle tension and reduce pain.
However, while oils can provide relief, they should not replace professional medical advice or be used as a standalone treatment for chronic or severe pain. Always consult with a healthcare provider before starting any new treatment regimen. Furthermore, it's important to use these oils correctly and safely, usually through dilution and topical application, to avoid skin irritation or other adverse effects. As part of a comprehensive pain management plan, essential oils can help improve quality of life for those suffering from this pain.